Two-stage oil vacuum pumps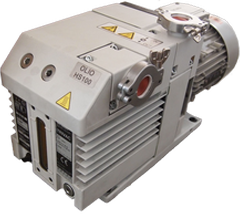 CONTACT
VAKUUM BOHEMIA s.r.o.
Lidická kolonie 47
586 01 Jihlava
Phone: +420 567 322 487
Fax: +420 567 330 560
Service: +420 567 330 556
E-mail:
info@vakuum-bohemia.cz
VAKUUM BOHEMIA offers repair and servicing of two-stage oil rotary vacuum pumps by Leybold, Busch, Rietschle, Edwards, and Varian Agilent.
Two-stage oil rotary vacuum pumps are used to generate a vacuum between 1mbar and 0.001 mbar. Two-stage flow-through vacuum pumps are used for dirty applications where it is not possible to use vacuum pumps with oil recirculation or in applications where deeper vacuum is required.
Operating principle of two-stage vacuum pumps
Two-stage rotary vane oil vacuum pumps operate similarly to two single-stage rotary vacuum pumps. Air is moved from one stage to the second stage. This leads to greater compression and the vacuum pump can achieve deeper vacuum. For flow-through oil vacuum pumps, the oil passes through the vacuum pump and does not return. That is why flow-through vacuum pumps can also handle corrosive gases.
Parameters of two-stage oil vacuum pumps:
flow: from 2 m3/h to 630 m3/h
motor power: from 0.37 kW to 15 kW
max. vacuum: 0.001 mbar or 0.5 mbar(abs)
Advantages of two-stage oil vacuum pumps:
deeper vacuum from one vacuum pump
for flow-through vacuum pumps, resistance to corrosive gases and possibility for rinsing
Our services:
vacuum systems using two-stage oil rotary vacuum pumps
sale of vacuum pumps
sale of spare parts
sale of accessories
vacuum pump servicing
repair and overhaul of two-stage oil rotary vacuum pumps
Applications:
evacuation of diffusion vacuum pumps
evacuation of turbomolecular vacuum pumps
helium leak detectors
metal coating
chemical industry – flow-through two-stage vacuum pumps
pharmaceutical industry – flow-through two-stage vacuum pumps